Qualcomm is a company that manufactures wireless chipsets, license technology and provides communication services around the world. Its ideas and inventions have driven the evolution of wireless communications, connecting people more closely to information, entertainment and each other.
They are world leaders in 3G, 4G and next-generation wireless technologies.Earlier this year, they brought two new high-end processors to market. The Snapdragon 600 quad-core chip and the Snapdragon 800.  The Snapdragon 800 quad-core chip utilizes LTE carrier aggregation for data rates up to 150 Mbps – double what current LTE speeds offer. It is Qualcomm Technologies' most advanced and powerful mobile processor to date.
Several interesting platform is the Qualcomm Vuforia™ that transforms real-world objects into interactive experiences for use in gaming, interactive media and instructional applications. With its industry-leading computer vision technology, Vuforia has been embraced by nearly 30,000 developers and adopted by leading global brands to drive engagement with advertisements and product packaging.
According to the Billy Owino, Business Development Manager Qualcomm, "By using Qualcomm Snapdragon SDK's for Android, developers can differentiate their products and create extraordinary user experiences via the unique and powerful capabilities in Qualcomm's industry-leading family of Snapdragon processors." To find out more about the tools available from Qualcomm to developers, sign up onQDevNet.The first 10 developers who sign up will receive gift harpers Courtesy of Qualcomm.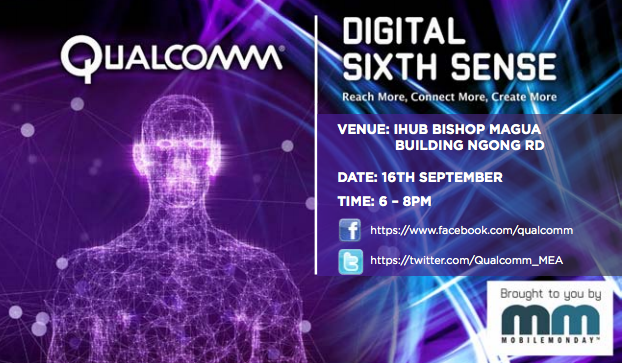 On Monday, 16th September, Qualcomm in collaboration with m:lab East Africa and Mobile Monday will host Mobile Monday with Qualcomm. The event will take place at iHub from 6:00pm – 8:00pm.
Key speakers during the event will be:
John Waibochi – CEO, Virtual City
Billy Owino – Director, Business Development at Qualcomm Incorporated
Robert Ngeru - Chief Operating Officer, Samsung Electronics East Africa
Alex Siboe – Senior Manager Programs at Safaricom
The MC will be John Kieti- Manager, m:lab East Africa.
To attend the event, please RSVPhere. To further engange with Qualcomm, Like their page on Facebookhttps://www.facebook.com/qualcommand or Follow them on Twitterhttps://twitter.com/Qualcomm_MEA